Currently, when the economy is growing, it is required that the construction progress of projects in big cities, especially in Ho Chi Minh City, be fast to meet the business and production requirements of many companies. . In order to solve that problem with a reasonable cost, the construction of pre-engineered steel frame factories has helped to solve most of the problems of factory construction. .
The article below Building Nhan Dat hopes to answer some of your questions you about Pre-engineered Steel Frame House
What is Pre-engineered Steel Frame Factory?
Pre-engineered steel frame workshop, also known as prefabricated house, is a house manufactured and built from structural steel components, usually manufactured at the factory and transported. come to install at construction sites, factories.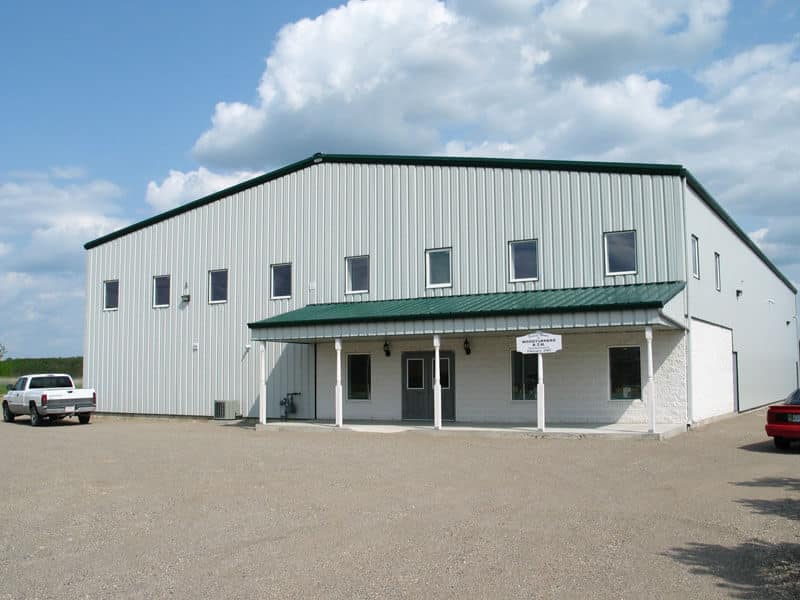 Prefabricated houses are applied more in factory and warehouse projects because of their flexibility, ability to overcome large spans and fairly fast construction. In addition, the civil pre-engineered steel building model is also being used a lot recently in big cities like Hanoi or Ho Chi Minh, typical for projects of supermarkets, showrooms, restaurants, tall buildings. floor…
Advantages of pre-engineered steel frame houses:
Pre-engineered Steel Buildings – Helping investors save extra materials.
Pre-engineered steel frame factory has good bearing capacity and lighter weight than other materials, so it will reduce the load during construction and construction.
The installation of pre-engineered steel frame workshops is much faster and simpler. And it also defies all weather conditions.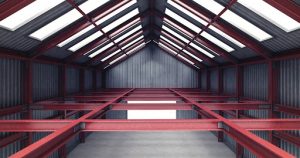 Pre-engineered steel frame workshop also helps to make the most of the space of the workshop, easy to scale up when needed.
Compared with traditional concrete houses, prefabricated houses are much cheaper, saving time and money for businesses who want to build.
Pre-engineered Steel Buildings – Highly synchronous in construction.
Disadvantage of pre-engineered steel frame workshops
Poor fire resistance
Although steel does not burn, at a temperature of 500-600 degrees Celsius, it will begin to turn into a plastic form, losing its bearing capacity, making the structure easy to collapse. Even, the fire resistance of steel structure is lower than that of plywood structure.
Very susceptible to corrosion in hot and humid conditions
With hot and humid weather like in Vietnam, especially in areas where the environment is heavily eroded, steel corrosion can cause damage to buildings.
Relative durability
Although the prefabricated steel frame factory solves many limitations of traditional reinforced concrete houses such as reducing costs, construction time and manpower, construction load, but the durability of the factory. Pre-engineered steel frames are less stable than concrete houses. That is undeniable.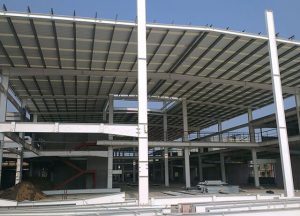 The maintenance cost is quite high
To ensure the durability of the steel frame house when you use it for a long time, it is necessary to regularly maintain it to increase its rust resistance and fire resistance, but this cost is relatively high. This is also a major obstacle limiting the application of pre-engineered steel structures in constructions and civil housing construction. Fortunately, most of the above disadvantages can be overcome thanks to today's advanced technology.
For example, for a steel frame that is easy to corrode, the solution is to increase the corrosion resistance of steel by galvanizing cast iron and aluminum. This solution also contributes to reducing maintenance costs for pre-engineered steel frame workshops a lot.
Fire resistance of steel will increase significantly when covered with refractory layers such as ceramic plate, fireproof paint, concrete. In addition, pre-engineered steel frame buildings also need to be fully equipped with fire prevention and fighting equipment to be able to deal with them in a timely manner.
Viewquiet: The latest factory construction quotation in 2021
Pre-engineered steel frame factory structure
1. Nail Texture
Prefabricated houses still use solid reinforced concrete foundations. The foundation system has the effect of transferring loads from above to the hard ground below. There are many types of foundation, which can be single foundation, ice foundation, raft foundation or pile foundation depending on the geology of that location and the load of the work.
Before pouring concrete foundation, foundation bolts, also known as anchor bolts, must be correctly and firmly connected to the foundation steel system, Foundation bolts are commonly used M24 and M27 Install foundation bolts is an important step and requires high accuracy to ensure that the installation of steel column and truss members is easy and accurate.
2. Prefabricated steel frame factory floor
The factory floor is usually poured with concrete under the base layer and compacted sand. The concrete thickness of the foundation depends on the load of machinery and vehicles moving inside the workshop. The substrate is usually polished or epoxy painted to ensure a clean glossy surface during use.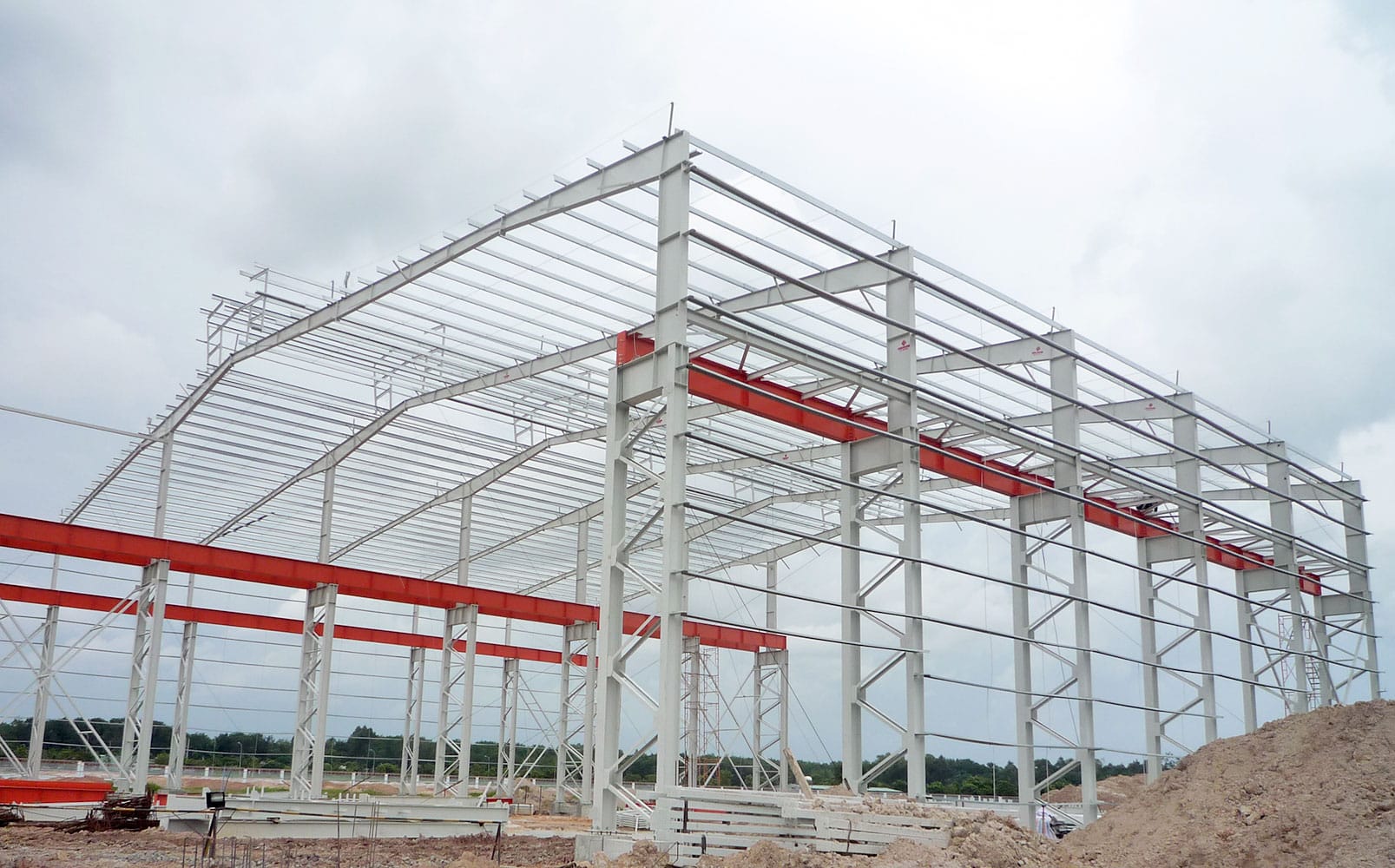 3. Main structural frame system: Columns, beams, steel trusses
Steel columns, steel trusses are the main structure of the pre-engineered steel frame factory, columns and trusses are designed by engineers to be able to withstand loads and overcome large spans up to 100m on request. of the factory.
Columns and trusses are usually designed in the form of H steel with a cross-sectional change, or a truss structure. The connection between the column and the truss is usually coded and they are connected by high strength bolts.
4. Skyroof and canopy
The skylight is usually placed on the top of the factory, has a ventilation effect to help the factory breathe during operation, Canopy production is a lobby roof system that has the effect of shading the sun and rain at the door and window positions. of the factory
5. Purlins and roof bracing, column bracing, purlin bracing
Galvanized steel purlins are usually in the form of C, Z … purlin spacing ranges from 1m – 1.5m, they are linked to the main frame that supports the corrugated iron roof system above. The roof and column bracing system, although the volume does not take up much, is an indispensable part of the factory structure. The bracing system has the effect of increasing the stability of the main structural frame system during erection and during use. Many factory structural systems can be deformed because of this subjective bracing system.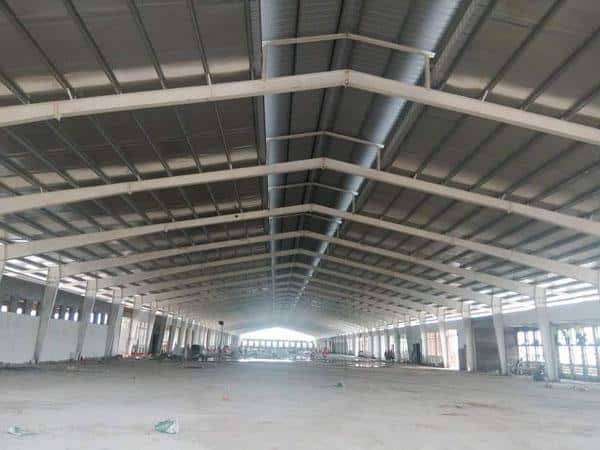 6. Covering corrugated iron and insulation materials
The simplest one is a color-plated corrugated iron that increases aesthetics and helps to avoid corrosion by the environment. However, with hot and humid weather like Vietnam, corrugated iron roofs are often constructed with an additional layer of insulation by air bags or glass wool to help the factory resist heat and noise.
7. Multi-storey pre-engineered steel building
Prefabricated factories with 2 floors, 3 floors and even 4 floors are being deployed more and more to help increase the usable floor area on the same land area. Along with that, the current solution is a steel-concrete composite deck using deck slabs. The deck solution is not only effective in bearing capacity but also helps investors reduce construction costs, helping to accelerate construction progress.
Factors affecting the unit price of pre-engineered steel frame factory.
There are many factors that affect the construction unit price, according toBuilding Nhat Dat then some factors below are the main factors that determine pre-engineered steel frame factory construction price
Function of the factory
Factory construction site
The scale of factory construction
Factory Model
Factory construction time
Request for factory construction progress
Factory construction contractor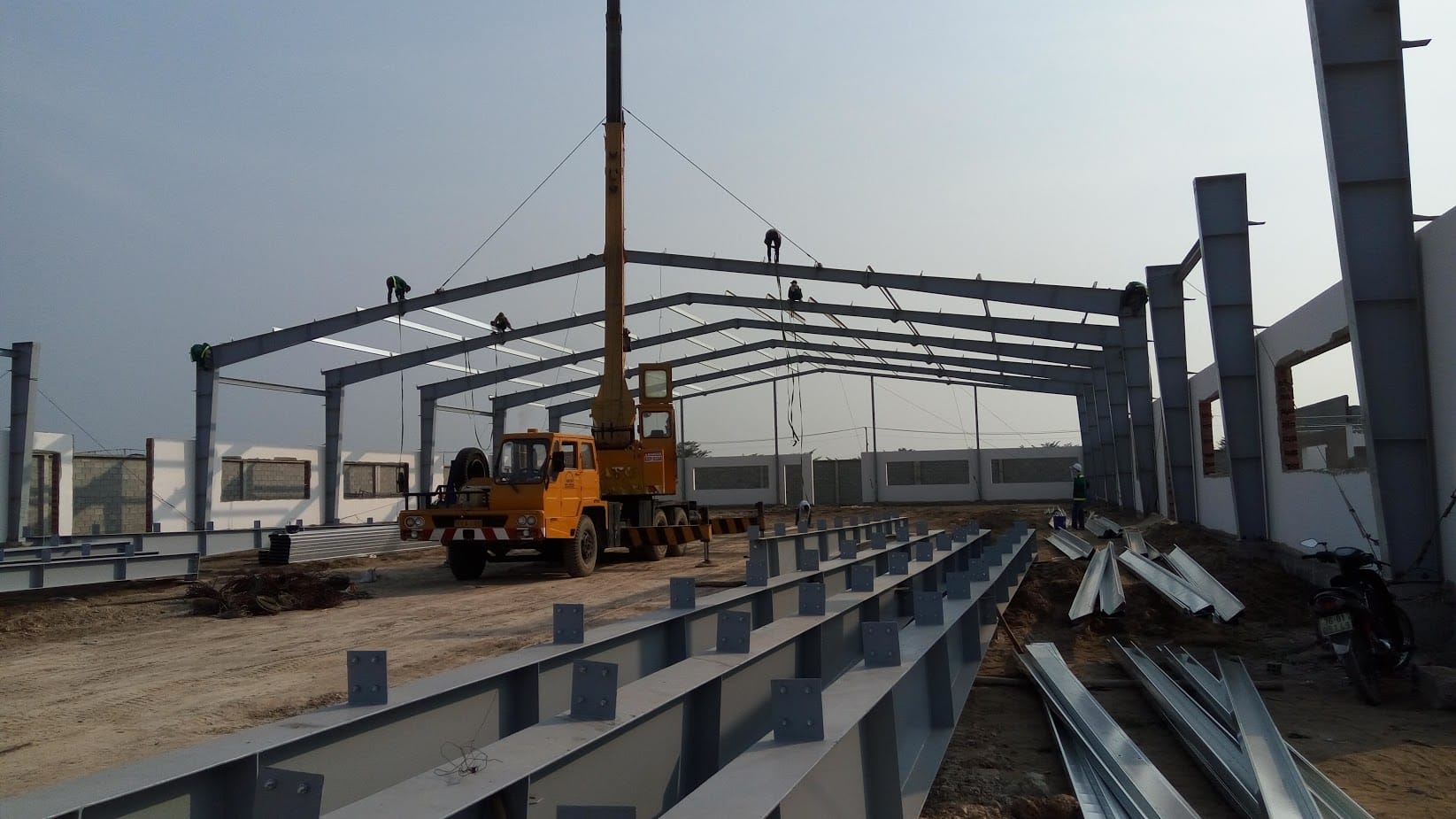 Because there are many factors that affect the construction price of Pre-Engineered Steel Frame Buildings, it is difficult to give an exact price when only knowing the general information of the desired building. To know exactly factory construction unit pricepre-engineered steel , you should contact directly to receive specific advice from companies specializing in this field.
In the scope of this article, with experience in constructing many small to large pre-engineered steel frame factory projects, Nhan Dat Construction will give basic unit prices for some common types of factories, so that you can partly refer to and estimate construction costs for your factory.
Construction Price of Pre-Engineered Steel Buildings Latest Update 2021
Materials used to build pre-engineered steel frames
| | | |
| --- | --- | --- |
| Job name | Unit | Material notes |
| D250 pile foundation – reinforced concrete | m | Vinakyoei Steel, ciphertext 6mm |
| Piling of Melaleuca 4m in length, D8-10 | tree | Melaleuca pile type 1- straight, full condition |
| Demolition of pile head concrete | the | Mechanical Machine |
| Dig the ground manually | m3 | Mechanical Machine |
| Mechanized digging | m3 | Mechanical Machine |
| Sanding by hand | m3 | Mechanical Machine |
| Mechanized backfilling | m3 | Mechanical Machine |
| Raise the foundation with leveling sand | m3 | Mechanical Machine |
| Raise your foundation with a 0-4 degree | m3 | Mechanical Machine |
| Sanding of excess soil | m3 | Mechanical Machine |
| Concrete lined with stone 1×2, M150 | m3 | XM Ha Tien, Holcim |
| Stone concrete 1×2, grade 250 | m3 | XM Ha Tien, Holcim |
| Normal structural formwork | m2 | Mechanical Machine |
| Complex structural formwork (silos, arches) | m2 | Mechanical Machine |
| Processing and installing construction reinforcement | kg | Vinakyoei or Pomina Steel |
| Build a wall of 10 bricks and pipes 8x8x18 | m3 | Dan, SG, BD tunnel bricks |
| Build a wall of 20 8x8x18 bricks | m3 | Dan, SG, BD tunnel bricks |
| Build a wall of 10 bricks with 4x8x18 cards | m3 | Dan, SG, BD tunnel bricks |
| Build a wall of 20 bricks with 4x8x18 cards | m3 | Brick Tuynel NE, SG, BD |
| Paint outside, M75 | m2 | XM Ha Tien, Holcim |
| Interior plastering, M75 | m2 | XM Ha Tien, Holcim |
| Put water-based paint on the wall | m2 | Nippon wall putty |
| Put water-based paint on columns, beams and ceilings | m2 | Nippon wall putty |
| Water paint on the outside wall | m2 | Nippon paint + lining |
| Painting beams, ceilings, walls in the house | m2 | Nippon paint + lining |
| Waterproofing according to technological process | m2 | According to Sika technology |
| Drywall partition – 1 side | m2 | 12mm plate, Vinh Tuong frame. |
| Double-sided plasterboard partition | m2 | 12mm plate, Vinh Tuong frame. |
| Frame (column + frame + beam + skylight + louver) | kg | CT3 Steel, TCXDVN |
| Brabbing (roof + columns + purlins) | kg | CT3 Steel, TCXDVN |
| Purple C (black steel + paint) | kg | CT3 Steel, TCXDVN |
| Flower Tole (4mm) Floor Cover | m2 | CT3 Steel, TCXDVN |
| 20mm (100kG/m2) cemboard flooring | m2 | Thong Hung, Vietnam |
| Tole roof | m2 | Tole Hoasen, Povina |
1. Unit price applied for pre-engineered steel factory: span span from 20m to 30m
Prices range from 1,610,000 VND/m2 – 2,500,000 VND/m2 depending on the area, factory size, industry, truss column, factory floor. The company provides a reference price list that is relatively accurate, depending on the area.
Preliminary Description:
Reinforced concrete factory floor, epoxy paint
Height less than 7.5m;
Combined steel columns and trusses.
50mm thick roof panel, wall panel, of aluminum and glass
Plastic ceiling
Factory uses reinforced concrete columns, pre-engineered steel truss frames, corrugated iron roof
Construction unit price: 2,000,000 VND/m2 to 2,200,000 VND/m2.
Preliminary Description:
Height under 7.5m,
Reinforced concrete column,
Combined steel truss, with skylight,
Silver roof 0.45m
Wall 220 built 4m high, corrugated iron and corrugated iron shutters
2. Unit price applies to simple factories and warehouses
Area: less than 1500m2, height less than 7.5m, columns built with steel core or concrete columns, steel trusses, iron boxes, 100mm walls, tole walls, tole roofs
No crane: Construction unit price from 1,300,000 VND/m2 – 1,500,000 VND/m2.
With 5 to 10 ton crane: Construction unit price from 1.800,000 VND/m2 – 2,000,000 VND/m2
Preliminary description of the project:
Height under 7.5m,
Wall 110 built 2m high, corrugated iron, corrugated iron shutters
One layer 0.45mm corrugated iron roof
Combined steel truss column
The concrete base is 15cm thick
3. The unit price applies to prefabricated houses, factories, and warehouses (Not pouring concrete)
Price from: 450,000 VND/m2 – 1200,000/m2, purlin C thickness 1.8mm – 2mm, Iron box 5×10, 6×12, Column I100 – I200 or use electric poles to reduce costs and increase product durability, Solid steel for trusses, cipher plates, Bolts, Connection screws, Tension cables, 4.5zem thick tole roof.
Note: Nhan Dat's unit price given above is for reference only, if you want to find out the unit price of factory construction, please contact company build reputation Build people Dat to get the most accurate quote.
Frequently Asked Questions
Question 1: What should you pay attention to when making a steel frame house estimate?
When making the most accurate estimate of a steel frame house, the investor needs to know construction drawings or factory design. Because, when you know this drawing, it will help the contractor to imagine what the amount of work to be done will include? How much is the cost to spend for the jobs?,… From there, the investor will have a detailed pre-engineered factory estimate.
Question 2: Do pre-engineered steel buildings have to follow an existing model?
Steel is a material with great bearing capacity, high homogeneity and a very good alternative to traditional materials. Therefore, steel can produce structural details according to design requirements; pre-engineered steel buildings do not need to follow the available samples.
Question 3: Are pre-engineered steel buildings as durable as reinforced concrete? Are pre-engineered steel buildings as hard as reinforced concrete?
At present, the design solution using steel materials is relatively complete and complete. It can be mentioned as TCVN 5575-2012 Steel structures – Design standards; Eurocode 3: Steel structure design; Eurocode 4: Design of concrete and steel composite structures, AISC 360 : Technical instructions for steel structures of high-rise buildings, …
Pre-engineered steel buildings have the same deformation and bearing capacity as reinforced concrete.
Question 4: Fire protection solutions for steel frame houses
Pre-engineered steel buildings are designed in compliance with TCVN 2622:1995 for fire prevention and fighting for houses and works – design requirements. Fireproof solutions for steel buildings:
Isolation of materials from fire sources: wrap the structure with fireproof materials, spray fireproof mortar, use fire retardant paint,,…
Using fireproof materials such as composite structure, heat resistant steel,…
Question 5: What is QA – QC in the production of pre-engineered steel buildings. Distinguish between QA – QS – QC – BOQ?
QA (Quality Assurance) is the process of ensuring product quality.
QS (Quantity Surveyor) is a volume engineer serving the bidding or payment phases of the project.
QC (Quality Control) is product quality control.
BOQ (Bill of Quantities) is a detailed explanation of tasks, quantities, and types of materials made based on design documents
WATCH MORE CHANNEL: